NEWs
July 2023 // Work for sale at LUMA Offprint bookstore in Arles
Every year in July, I visit the opening week of photography festival Rencontres d'Arles in the South of France. Last year I discovered the LUMA Offprint bookstore. A lovely small store in the city center that supports independent and experimental publishers and sells artist books and prints. An exchange started between me and store manager / designer Jean-Francois Raffali. We developed an A2 poster around my animal ambulance project that I had risoprinted at De Kijm in The Hague. The posters are now for sale in an edition of 50 at the LUMA Offprint bookstore. My riso postcards 'Rick langs de Waal' and 3 silkscreen prints on textile titled 'Between two rivers (ants on flowers)' are also available in the store. LUMA Offprint Librairie 14 Rue du Dr Fanton 13200 Arles, Frankrijk
May 2023 // Solo exhibition »Between two rivers« in Willem Twee, 8 May - 18 June
Currently I'm exhibiting the Between two rivers project in Willem Twee art space in 's-Hertogenbosch. I show a composition of a number of larger prints and a hanging installation with material experiments. In addition to this, I'm exhibiting in the Councilor of Culture's office in the city hall of 's-Hertogenbosch. There I present a number of framed photos, my hand-bound photo book »Between two rivers« and fragments from the book in two leporellos. Starting from contact sheets and work prints, which are also on display, I play with selections. This is how I build a narrative, from which the photo book originated. Fueled by the place where I've moved to live, I want to work more analogue. I explore screen printing and riso printing of photos, a few of which are also on show in the room. More info via
www.willem-twee.nl/wat-speelt-er-nu/glashelder-26-monique-van-de-wijdeven
.
November 2022 // Photo book »Between two rivers«
In April 2021, me and Pjotr moved from the city to the country side. In between the two big rivers Maas and Waal. For one year, I photographed this process of transition, with all the tension and magic that came along with it. I've made a single photo book dummy which was launched in a group exhibition in Berlin, October 2022. It's printed on biotop paper and I did the binding myself. Many thanks to Joakim Eskildsen, the Ostkreuzschule group for their guidance, feedback and inspiration, Nicole Jansen for learning how to design and bind a book, Pjotr and my friends and family for walking with me through this new life.
October 2022 // Group exhibition »I see through your dreams and mine«
This collective exhibition shows recent works, experiments and photo books by a diverse group of artists. Over the course of a year, we came together at Ostkreuzschule für Fotografie to work and reflect on personal projects and to develop our photographic language. I'm showing a few prints and a book dummy of my latest project Between Two Rivers. With Freya Gerz, Johanna Lennon, Maarten Boswijk, Matthias Frank, Monique van de Wijdeven, Naomi Lurel, Nico Fritzenschaft, Niklas Reinfelder, Petra Dachtler, Sibille Riechardt Oct 22 & 23, 2022 Opening Reception: Friday, Oct 21, 7 pm Kiezkiosk Open Tiny · Treptower Str. 84 · 12059 Berlin Opening hours: Sat & Sun 12 – 7 pm Admission free
September 2022 // Participating in Atelier Smedsby 2022-2023
I'm happy to be admitted to
Atelier Smedsby
, led by photographers JH Engström and Margot Wallard. In October 2022, I'll start with the one-year program with monthly meetings which are held online and in their atelier in Paris. Among the other participants is my dear friend
Judith Weber
. <3
April 2022 // Silk screen printed napkins
In April two performative and artistic diners were organized by Ed & Overvloed in the Bartjesschool where I have my studio. For the guests, I've screen printed 80 sheets of canvas with 4 different black and white photos from the project Slow Adventure, which they could use as a napkin. Soon these napkins will be available to order via my website.
March 2022 // Project in progress: »Between two rivers« (working title)
In the beginning of 2021, me and Pjotr moved from the city to the country side. In between the two big rivers Maas and Waal. I couldn't have imagined the impact this would have on my life. Along the moving process, there were all kinds of setbacks. When it all worked out, we both had to search for a way to fit this new place into our usual lives and to find a new rhythm. I photographed this process of tension, worrying, as well as the calmness, the magic of the place, the exciting part, the adventure. As you move through life, you have to leave one kind of life behind and move into a different one. And try to work towards balance along the way.
March 2022 // Exhibition at New Forest Heritage Centre, UK
Inspired by the New Forest landscape, rich history of the forest and archive at the heritage centre, 21 WorkShowGrow artists created works of art during a residency that were then despatched to 42 collaborating artists from all over the world using the postal service. This exhibition showcases the final products of these collaborations. Next to that, there's a series of online events and an in-person opening celebration on the 2 April at the New Forest Museum and Heritage Centre (UK).
October 2021 // Year program with Joakim Eskildsen at Ostkreuzschule, Berlin
From September 2021 until July 2022, I'm participating in a seminar with Danish photographer Joakim Eskildsen at the renowned Ostkreuzschule für Fotografie in Berlin, Germany. During this year program, I will be staying over in Berlin once a month to follow classes. Me and 10 other photographers are working on our own photographic projects, with the guidance of Joakim. We have a very diverse group of young and older people in various experience levels. Which is great for exchanging ideas and different views on life. Next spring, we'll each work towards making a photo book of our work.
October 2021 // Visits during Open Atelier route
In the weekend of 16 and 17 October, the Open Atelier Route took place in Den Bosch. Me and my friend and jewellery designer Renske de Veld invited people to come by our studio and look at how we work. We've met a lot of people and had nice talks about our projects, themes and about the meaning of art in general. On Sunday, we've invited a few friends for drinks, and asked Shouf to make some delicious snacks.
June 2021 // Expedition through »Slow adventure«
In the summer of 2020 I did an artist residency in AnnAtopiA, a forest house in the woods of Baarle-Nassau, on the border between Belgium and The Netherlands. On Saturday 26 June 2021, I was invited to show my project Slow Adventure during their Open Day. I presented the work in the woods, played with the weather conditions and led visitors along the photos.
June 2021 // Exhibition »Animal Ambulance« at Werkwarenhuis
From 20 - 27 June 2021, I'm part of the group exhibition 'SOLOS: End of an amazing journey' in Werkwarenhuis, an old industrial location in 's-Hertogenbosch. I'm showing a selection of the Animal Ambulance project.
January 2021 // Postcards from the riso printer
For new years wishes, I've printed four different photos of our cosy cat Loulou on the riso machine. It's a one-time edition of 20 cards, size approx. 10x15 cm. Thanks to my friend Astrid Florentinus for the instructions and inspiration. The cards that are left from this edition, will be available for purchase later this year. Handprinted at the Graphic Atelier in 's-Hertogenbosch.
October 2020 // Workshop with JH Engström on Santorini
In October I was part of a five days intensive workshop, organized by Art Foto Mode, held on the Greek island Santorini. I'm currently working out the thoughts and lessons that came to the surface during this interesting week.
August 2020 // Article on my artist residency in Witte Rook
This summer I have stayed over and worked at the AnnAtopiA Boshut, an Artist in Residence in the forests of Baarle-Nassau. For online artistplatform Witte Rook I wrote an article about my working process during the residency period. _____
"De boshut, het oude vervallen huis naast het boshuis, is fijn om als atelier te gebruiken. Vooraf heb ik veel prints gemaakt van nieuw werk, waaronder een serie foto's van ontdekkingen tijdens wandelingen (Slow Adventure) en de eerste reis van mij en vriend Pjotr vorige zomer. Ik zoek nog naar een concept of vorm om dit werk te presenteren. Hoe maak ik vakantiefoto's tot meer dan wat ik erin zie en bij voel? Ik spreid alles uit over tafels en vloer, om te schuiven met selecties en verbanden te zien. Ik onderzoek mijn visuele taal en het maakt meer lagen zichtbaar."
_____ Read more (in Dutch):
www.witterook.nu/artikelen/monique-van-de-wijdeven-in-annatopia-oefenen-voor-de-post-apocalyps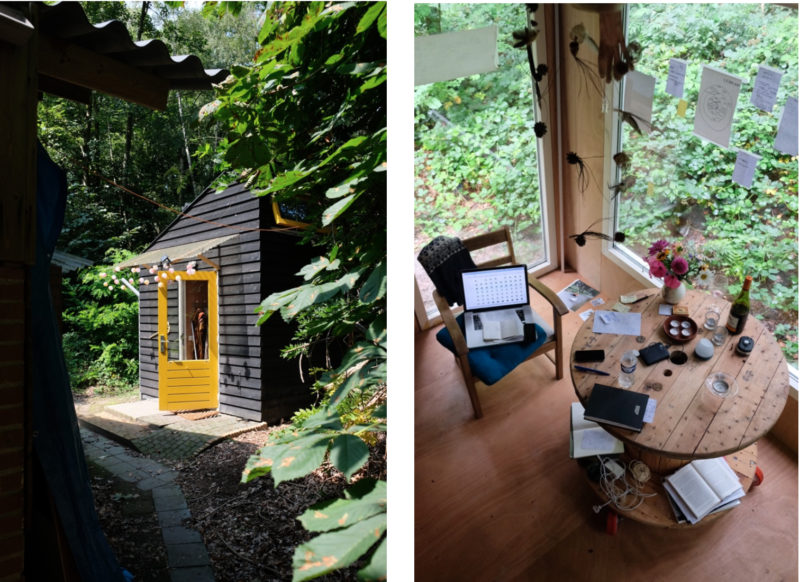 May 2020 // Publication »Slow adventure« in special edition of KONT Magazine
During the first weeks of Covid-19 virus, I made a lot of walks in nature and this became a bigger part of my daily life. I realized the virus is only just a natural phenomenon. We are also part of nature, but for long, we have placed ourselves above or outside it. We don't accept that death is part of life. Taking risks is part of life. As a species, we surely will survive. A preview of this new work has been published in a special edition of KONT Magazine, which was launched in May 2020. The zine contains contributions of 28 artists and is a reaction, in paper form, to the uninvited guest that showed up at our doorstep: Corona. The zine was an alternative project for a KONT Slow Date evening, using mail and phone. You can buy it
here
.
July 2019 // Participation in International Summer School of Photography, Latvia
I was selected to participate in ISSP 2019 in Latvia. Between 12 and 20 July, I've worked on my photographic work during the workshop 'The personal as policital' by Natasha Caruana. We reflected upon the role of the photographer as an individual, and techniques by which we could share the current global state and use our work to engage others. The results of the week were presented in the pop-up exhibition "This is Important" in Villa Manor, Zalenieki. Participants: Agnieszka Sejud (PL), Alvin Lau (MY), Augustine Paredes (PH), Caroline Lusseaux (FR), Dania Hany (EG) - Recipient of Tandem Network Scholarship, Ivan Petrokovich (RU), Jessica Wolfelsperger (DE/CH), Keiji Fujimoto (JP) - Recipient of Higashikawa Town of Photography Scholarship, Monique van de Wijdeven (NL), Nastassja Nefjodov (DE/NL), Nathalie Bjorneby (NO).